White Poisonwood / Sebastiana tuerckheimiana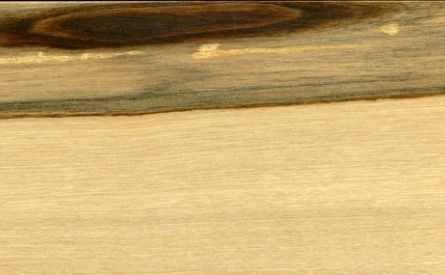 Reventadillo, White Poisonwood, Ridge Poisonwood.
Not to be confused with chechen negro (Metopium brownei, also known as Black Poisonwood), chechen blanco is also native to Guatemala, Belize and southern Mexico, predominantly occurring on plains or hillsides, generally on limestone in low-lying regions 350 meters or less. Tree reaches up to 40 m in height and trunk diameters of 45 cm. The species exudes a caustic white latex from leaves, branches and trunk (hence its local name of White Poisonwood).
Pinkish white with dark brown specks. Takes a high polish. Medium texture and straight grain.
Sawing, planing and moulding are excellent and easy. Dimensional movement is small to medium. The milky latex is poisonous in contact with skin, causing irritation and eruption, and precaution should be taken when working with trees and green material.
High basic density, high bending stiffness and strength, and medium hardness.
Exterior construction, frames, panels, interior mouldings, stair rails and treads, utility furniture, and woodcraft items.
Ecological & Social Importance
The ancient Maya used chechen blanco for construction, fuel and medicine. The tree was among the most frequently encountered species in the paleoethnobotanical remains in Mayan site of Tikal, dating from the Classic period, despite not being dominant in the modern forest in the region.