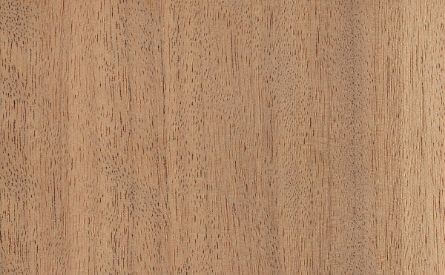 American Muskwood, Marapolan, Totocoy, Arapillo, Cabimbo, Caobano, Peonía, Roble, Trompillo, Guaraguao.
Carmantee is found from southern Mexico through Central America, and southward to Brazil and Argentina and the West Indies (its scientific name derives from an indigenous word in Cuba guara). It occurs naturally in riparian corridors and areas with high humidity, and is sometimes planted on coffee plantations for shade. Commonly 25 meters in height and up to 100 centimeters in diameter. Referred to in many parts of Central America as cedrillo (little cedar), its characteristics and uses compare with those of its better-known relatives in the Meliaceae family, big-leaf mahogany and Spanish cedar. It produces fragrant white or rose-colored flowers.
Heartwood pinkish to deep reddish- brown with sapwood distinct from the heartwood. Luster is rather low. Its texture is medium with a straight to slightly interwoven grain. It takes a good, smooth finish. Green wood has an apple-like aroma which becomes imperceptible when dry.
The wood saws and machines easily and well in all operations. It takes nails well, although boring may be required to avoid splitting. It has good dimensional stability with shrinkage similar to big-leaf mahogany.
With a medium density and hardness, the heartwood has good resistance to dry-wood termites and rot and is durable in the ground. It can be exposed to occasional dampness.
Furniture, doors, windows, cabinet work, turnery, interior trim, joinery, ship construction (planking and trim), general carpentry, tool handles, and decorative and utility veneer and plywood. It can be used for flooring, steps and handrails.
It has laxative properties, inspiring its moniker in Nicaragua as "quitacalzón" ("underpant remover") and Mexico as "prontoalivio" ("rapid relief"). Its fruits are a source of food for many forest animals. It's often employed ornamentally in parks and along alamedas.