Santa Maria / Calophyllum Brasiliense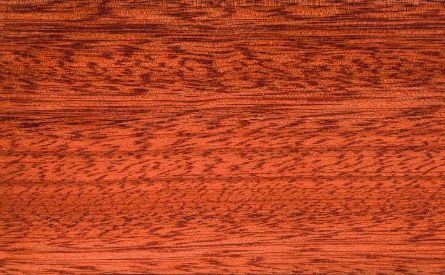 Barí, Leche de María, Calaba, Aceite María, Edaballi, Kurahara, Balsamaría, Guanandi, Jacareuba, Aceite Cachicamo, Alfaro, Lagarto-Caspi, Cedro do Pantano, Bella Maria, Brazil Beauty-Leaf, Crabwood
Santa Maria's territory spans from southern Mexico across all of Central America to the northern Amazon and is found in the Antilles. It can reach heights of 50 meters with trunk diameters of 1.8 meters. It thrives in soils rich in aluminum and iron and humid, even swampy terrain and is often seen growing in lowlands and alongside rivers.
The wood's hue can vary from a pinkish beige to a reddish gold sometimes with darker veining and figures with golden tones. Logs exhibit a gradual transition from sapwood, which is pinkish, to heartwood, a reddish walnut. Radially-cut or sliced veneer is quite attractive and the species is increasingly used as a substitute for mahogany.
Its stability is comparable to that of big-leaf mahogany (Swietenia macrophylla). It's easy to mill and cut. It can be sanded easily although the presence of resin can have a dulling effect on equipment. Machining can be performed easily and finishing and gluing are good. Pre-drilling is recommended as it can split. The species shrinkage characteristics are favorable to stability once the wood has been properly dried.
It is moderately heavy, strong, durable, and resistant to fungi and dry wood bores. Its mechanical strength allows it to bear loads of medium weight. It's resistant to termites and moderately resistant to fungal attack. It is difficult to impregnate.
The wood can be used for indoor construction and joinery, including panels, carpentry, flooring, cabinetry, veneers, masts and railroad ties. It's commonly used in the fabrication of doors, windows and high-end furniture and lathe work where it's prized for its lustrous color and desirable finishing capacity. Due to the excellent quality of its wood, the species is utilized on plantations. It's sometimes used for shipbuilding, outdoor furniture and cladding. Guatemala's wood industry has utilized the species for production of doors for export to the US, Europe and Mexico.
Ecological & Social Importance
The latex is used to reduce fever and as an antiseptic for wounds. The leaves are said to possess anti-inflammatory properties. In Peten, Guatemala, it is applied as a liniment to the area around the spleen to reduce swelling. The bark produces an excellent rich brown dye. Due to its natural beauty, the tree is sometimes used for ornamental purposes.