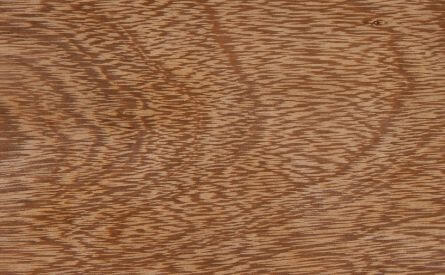 Banak, Bogabaní, Cedro Bastardo, Fruta Dorada, Manteco, Miguelarillo, Mollejo, Palo de Sangre, Sangre Real, Sangredrago, Sebo, Tabeque, Bicuiba, Cumala, Baboen, Camaticaro
Virola is found across all of Central America and through northern South America. It is found in very humid and subtropical areas, particularly along the Atlantic coast. Sangre may reach a height of 40 m with trunk diameters of 120cm. Boles are heavily buttressed, cylindrical, and clear for more than two-thirds of total height.
As the wood dries, its heartwood becomes a pinkish golden-brown or deep reddish-brown. The sapwood, a lighter cream color, is not sharply demarcated. Its luster is low to medium with a coarse texture and straight grain.
Works easily with both hand and machine tools and produces an excellent finish. It glues well and is easy to hammer. It cuts well into veneers and is easy to sand. It was good dimensional stability once properly dried. It has a low silica content around 0.11%. Its workability is similar to Spanish cedar and mahogany.
Sangre's density and hardness are comparable to American elm, Mexican white cedar and Caribbean pine and it can readily be used for light construction. The wood is not resistant to decay and is susceptible to attack by termites and other insects. However, it's easily treated.
Sliced veneer and plywood, particle and fiberboard, furniture components, boxes and crates, light construction, general carpentry, interior paneling and other millwork. It is used for doors, windows, and moldings. Sangre can substitute okoume and iloma for plywood.
Ecological & Social Importance
Oil is extracted from seeds of virola for use in soaps and candles.